A year ago, we established the Balloon Customer Advisory Board. Since then, we have grown our cohort of board members to include champions from Amazon, MLB, VMWare, Coalition, Thumbtack, MasterClass, Citi, the LA Angels, UScellular, and more. Establishing this board has been one of the best and most impactful decisions that we've made as a founding team. As an early-stage startup, nothing is more valuable than hearing from our customers.
We get a lot of questions from other founders about why we have a CAB, how we've structured it, and how we engage our customers. We've gathered some best practices, benefits, and learnings below.
1. Establish clear goals and set expectations.
We started by sending email invites to customers. In those original invitations, we outlined our goals and expectations as well as the benefits of joining our CAB. This foundation ensured that everyone knew what was involved and the level of commitment. A few specifics about how we structured:
The Goal: To drive better business outcomes and ROI for you and your team. This is our number one goal and priority, and it motivates our team every day.
The Opportunity: To influence the development and functionality of Balloon, establish new channels of communication with current and future key members of the Balloon team, and get first looks and early access to new features and designs. And, of course, you will receive thank you gifts from the Balloon team.
Our Hope: To answer big questions about customer satisfaction, relevance, trends and drivers, operations, and technology.
Flexible: Not a permanent commitment—you can leave at any time.
Community: Meet annually in San Francisco for four to six hours and run quarterly flights on Balloon to capture additional ideas and feedback.
Here we are at our inaugural meeting (in-person!) in SF in 2019: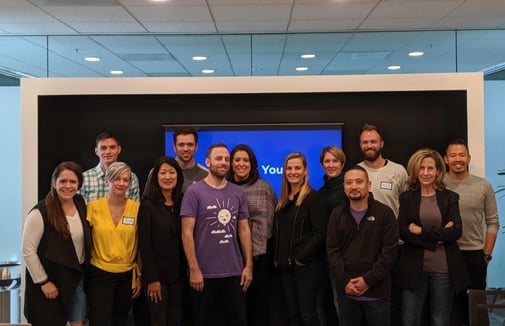 Here we are on Zoom this year: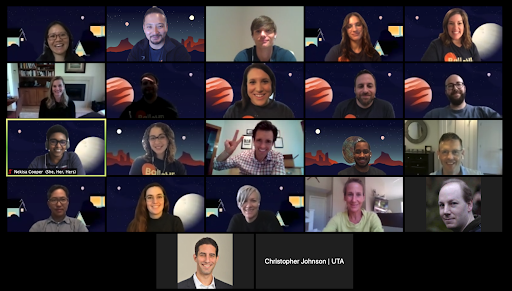 2. Your customers want you to be successful and they want to help you get there!
The worst feedback is no feedback. If customers need and love your product, then they will invest the time to share their input and ideas because they want you to grow and get better and better. Our CAB has given us a direct line to our user base and has illuminated insights into the customer experience, both of which help us make better decisions and ultimately drive higher ROIs for everyone.
Here are the main components of the event, which is our main engagement with the board:
Keynotes by industry experts: Our keynotes focus on sharing the latest science, and research, and trends in our field. We want our customers to take what they've learned during our meeting and share it with others.
Use cases and experiences: Every customer shares two to three Balloon use cases, including the catalysts, methods, results, and any learnings.
Company updates: Our Founding team shares business updates, reflections on the past year, and our vision and framework for the future. As a category-creating company, we have found that gaining alignment during this section of the agenda is essential.
Product roadmap: Our Product team listens to needs and shares the roadmap, focusing on upcoming features. As we build, we update our CAB members on these requests before anyone else.
Throughout our CAB meeting, we conducted flights on Balloon during each session to amplify voices, collaborate, and gather new insights and vital feedback. The results are a treasure trove of valuable input that our team can reference for months.
3. A CAB is more than the sum of its parts.
A CAB adds a layer of advantage for our team. On their own, each member brings a distinct set of skills and a unique perspective, but together, their wisdom is cumulative. Balloon is a horizontal product, and our customers cut across industries, organization size, and business lines. Bringing them together to share use cases, experiences, and product feedback helps everyone learn. Our customers are also all informed, enlightened, and confident leaders, so bringing everyone together creates a supercharged community of peers that we can't get anywhere else.
After our CAB event this year, we asked our members what they thought was the most valuable aspect of their experience. Here are three of their responses:
"Learning from people in positions/industries I don't typically interact with on a regular basis."
"Getting the hands-on support and strategic thinking from the Balloon team to help my organization really benefit from Balloon! I feel like my input on the product roadmap is valued as a customer, and am excited that other Board members are providing input I may have not even considered!"
"Sharing insights with and gaining perspectives from other members, across a multitude of industries, in support of mutually beneficial goals is so cool."
---
Have you started a CAB? Any best practices to share? Any questions we can answer? Tweet at us @BalloonPlatform.
— Amanda and Noah